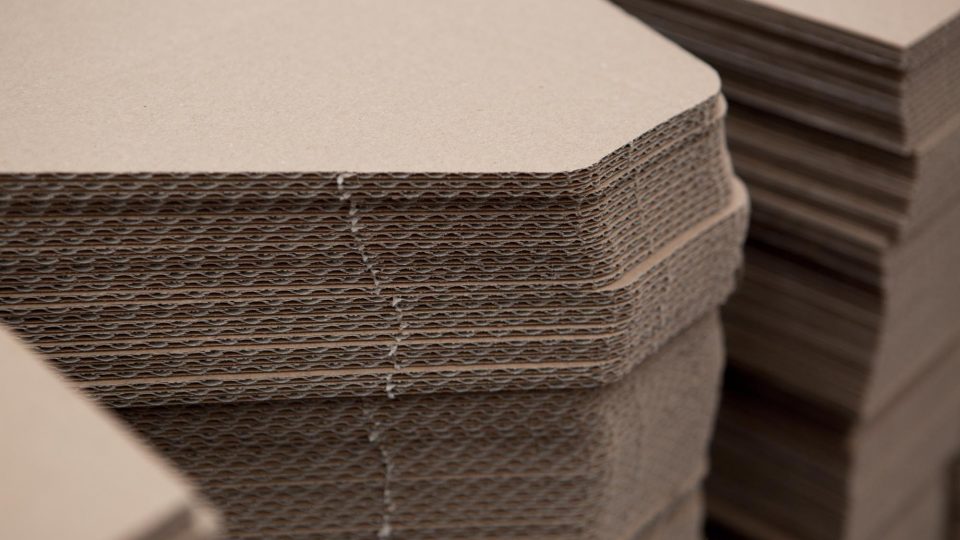 Boxes, displays and products in corrugated cardboard
Thanks to new technologies and new paper converting systems we can produce packaging in various sizes, types and colours. Modern lines for the processing of corrugated cardboard today allow a production volume of over 30,000 cardboard boxes for packaging per hour.
To ensure maximum production flexibility, our lines are equipped with machines also suitable for the production of limited batches and with a high start-up speed.
We have 65,000 square meters of covered warehouse to allow effective management of the storage of cardboard boxes and other packaging products and the ability to offer customers an excellent inventory management service and just-in-time shipping.
We provide our design and design laboratory to study customized cardboard packaging of any type, using the most modern and efficient development and prototyping technologies.
We produce cardboard boxes of various sizes and types, corrugated boxes for packaging and flexographic printed up to 4 colours. They can be made of corrugated cardboard, with regular slotted containers, half slotted containers, punched box according to the internationally recognized FEFCO regulations.
---
Regular slotted cardboard box: the best protection
The regular slotted cardboard box is the most common corrugated cardboard box and is manufactured with extremely practical, economical and totally recycled and recyclable materials and is the optimal solution for any type of cardboard packaging. It is used in particular in the packaging and protection of products; thanks to its convenience it is used in removals, shipping, storage and transport of goods of all kinds.
This type of regular slotted cardboard box is available in different weights, according to the type of cardboard used and the number of internal walls (single, double, or triple wall), all characteristics that make the box more or less heavy, robust and impact resistant to outside impacts.
We also propose, to allow for better packaging and even more cushioning of any bumps, to insert protective materials inside the box and between the goods and the edges. The suggestion is to use paper pulp, embossed paper, polyurethane foam in bags, air cushions, etc.
---

Self-assembling die cut cardboard boxes
Designed by our LAB technicians, these die-cut cardboard boxes are available in different sizes depending on the use for which they are intended, they are very simple to use and can be assembled in a few quick steps without the use of adhesive tape. They are often produced to be used as protective packaging for smaller products and are used for simple and practical shipments, such as the transport of postal couriers or freight carriers.
The die-cut cardboard boxes can be customized and thus allow the packaging of products that require a particularly accurate presentation that allows a better display of goods on the shelves of small and large distribution.
The boxes are made with different types of materials: from rough corrugated cardboard to cardboard coupled with polionda of various weights, etc
---
Corrugated cardboard boxes
Corrugated cardboard consists of:
two flat paper surfaces called linerboard, which can be white or brown (the former in particular are required for printing needs) that are positioned externally;
a corrugated medium that can be of different types and weights and that is enclosed between the two covers.
Flute profiles in the production of cardboard boxes:
The characteristics of the corrugated cardboard are linked to those of the individual mediums that compose it. The combination of different types of mediums and corrugated paper with flutes of various heights give rise to the production of a large number of different types of cardboard and, consequently, to cardboard boxes of different weight and strength.
Corrugated paper can have different types of walls: 
single wall
double wall
triple wall
1. Among the single wall we may find:
type B wall, minimum height 2.5 mm;
type C wall, minimum height 3.5 mm;
type E wall, minimum height 1.2 mm;
2. Combinations of double walls might be, among others, cardboard boxes with:
type BC wall, minimum height 6.0 mm;
type EB wall, minimum height 3.7 mm.
3. The production of triple wall corrugated cardboard is suitable for specific uses given the maximum characteristics of resistance and rigidity.
Adhesives, thickness and weight of corrugated cardboard
The two types of paper (linerboard and fluted paper) that collaborate to create the corrugated cardboard are glued together through the use of natural adhesives; the combined action of the linerboard, the corrugated medium and the adhesives give the corrugated cardboard the rigidity that allows the boxes to have a high level of resistance for the packaging and transport of products.
The thickness measures the distance in millimetres between the two linerboard covers. The weight of the cardboard expresses its weight per square meter. The sum of the weight of the covers plus the weight of the fluted paper and the (minimum) weight of the adhesives.
---
Cardboard displays
We are also able to produce cardboard displays for the presentation of products and/or company brands.
The cardboard displays are available in various types and sizes; it is also possible to customize them in various ways according to different needs.